Drain flies: how to find and stop an infestation [2023]
This post includes affiliate links to Amazon and other vendors. I may earn commission from purchases made through these links. However, the views and opinions here are my own and are based purely on my experiences using the products.
Do you have drain flies or fruit flies? It starts innocently enough, with one or two little flies circling around your kitchen cabinets or bathroom faucet. At first you think it's nothing. Then you see more, and you start to think you have some fruit flies. And then you see more.
Is it drain flies? Or is it fruit flies? In this article you will learn everything about getting rid of drain flies. This begins with understanding whether you're seeing fruit flies or drain flies. Then we will look at how to identify drain flies and how they reproduce. From there, you will learn what you can do to diagnose a drain fly problem, including how to determine where the drain flies are coming from. Finally, I will explain how to get rid of drain flies — the methods that work and the methods that don't.
Table of Contents
What is a drain fly vs. fruit fly?
Fruit flies are the common flies that you find around fruit, when it's left out for too long. Fruit flies are identifiable because they have red eyes and a brown or yellow body. Drain flies are black and moth-like. They are somewhat fuzzy, although you can't really see the fuzz with the naked eye. Fruit flies generally aren't found in huge numbers in a house, so if you have a huge infestation, you likely have drain flies.
Drain flies are from the the Psychodidae family and are also also known as sink flies, filter flies, sewer flies, or sewer gnats. They are very small, with adult drain flies being around 1/8 inch and younger flies much smaller.
Do drain flies bite? Do drain flies transmit diseases?
They don't bite, and don't transmit disease to humans, so they're mostly a nuisance. But if you have an infestation, you'll be hard pressed to be able to live with them.
Drain flies don't really fly. Instead they sort of jump around from place to place, with only a few seconds of actual flight. They're also pretty easy to kill individually, because they rest for long periods on surfaces. Unfortunately, they're much harder to completely get rid of.
Do you have fruit flies in your drain?
While it is possible to have fruit flies in your drain, you are more likely to have drain flies. Drain flies and fruit flies will feed on rotting fruit and food within drains, although drain flies tend to feed on other biological material, including sewage and sludge, as well.
If you are seeing flies in a bathroom, you likely have drain flies. If you're seeing them in the kitchen, you may have either drain flies or fruit flies.
Do you have fruit flies in your garbage disposal?
It is possible for fruit flies to enter your garbage disposal; however, fruit flies lay their eggs in fruit and vegetables, so they don't normally appear in the drain. Drain flies, meanwhile, lay their eggs in the actual biological material in the drain.
If you're seeing flies come from the drain in any number, you likely have drain flies. If you see one or two, it's possible that you've found an errant fruit fly. There's an easy way to determine how many flies are coming from the garbage disposal, which I will explain below.
Understanding the life cycle of a drain fly
Drain flies reproduce quickly and prodigiously. If you see a few, it won't be long until you see thousands — if you don't stop them. Drain flies lay eggs in the biological material in drains, where the larvae can then feed. The larvae are very tough and can survive extreme conditions, including high temperatures, being submerged in water, and even many chemicals.
Drain flies live for about weeks, but if you're making progress on getting rid of their larva, you should see them mostly disappear within a day or two. If you're not, you will continue to see their numbers grow, as the adults lay more and more eggs in the sludge.
When the weather is cold, drain flies die out very quickly. So many people with drain fly infestations will mistakenly think the flies are gone as winter comes around. However, the larvae enter a sort of hibernation and will return when the weather gets warm again.
What do drain flies look like? Pictures of drain flies
Here is a zoomed in picture of drain flies that I have taken from catching the flies during an infestation.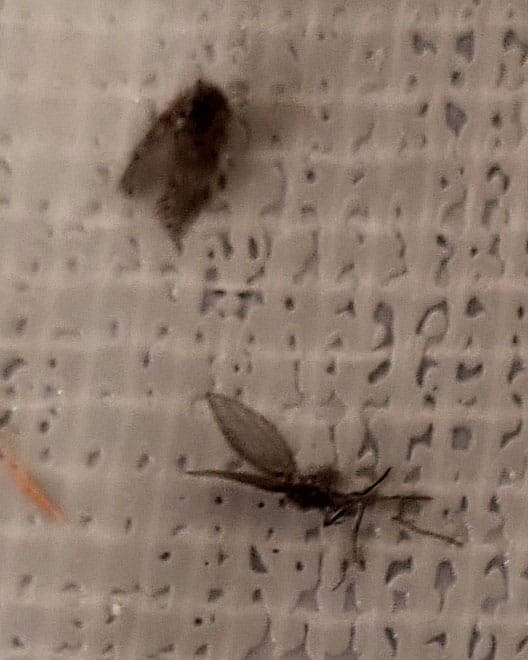 How to determine where drain flies are coming from
The first step in getting rid of drain flies is to determine where the drain flies are coming from. I've tried many different ways to do this, but I have found the best way is to follow these steps:
1. Wait until nighttime. Drain flies are most active at night, and they are attracted to light sources, so overnight, you can attempt to coax the drain flies out of their breeding places.
2. Get a bunch of duct tape. Amazon sells it in bundles here for cheaper than home stores. Duct tape works really well to trap drain flies because it has a strong stick.
3. For each drain in your bathrooms and kitchen, make a drain cover with the duct tape:
First, make a circle with the duct tape. The size of the circle should be larger than the drain you're trying to cover. So for bathroom drains, it will be relatively small, and for large kitchen sink drains and garbage disposals, it will be a large circle.
Then cover the top of the circle with tape to make a graduation hat shape. Place the cover you made from duct tape over each drain in the house.
When the drain flies exit the drain, they will get caught on the tape.
4. Leave the lights on overnight in all of the bathrooms and the kitchen. The light will attract the drain flies, who will fly into the tape and get stuck.
5. In the morning, lift up all of the duct tape drain covers you made and see which ones have flies stuck to them. If you don't see any flies on a particular drain cover, you don't need to treat that bathroom or kitchen to get rid of the flies.
If you do see flies stuck to a particular drain cover, make a note of it. Go through the whole house and determine which drain covers have the most flies.
Drain flies tend to remain very close to where their larva is, so the areas where you see the largest concentrations of flies are most likely where they are laying eggs.
In the next section, you will use this information to help you actually get rid of the flies.
Can drain flies spread to other areas that aren't drains?
If you have a big enough infestation, you may find that the drain flies are spreading to other areas that aren't drains. Some of the most common areas you may find them are in shower doors where mildew may grow, in floor drains or sumps, and underground where sewage may be seeping.
In these areas, the drain flies can continue to lay eggs and reproduce. Once the drain flies are seeded in these areas, you will need to treat any of these areas to stop the flies as well.
Again, in these situations, the best way to find the source of the drain flies is using duct tape. Overnight, seal off any areas where you suspect drain flies may be reproducing using the duct tape, so that if they try to fly out, the will get stuck to the tape. If drain flies are present in a room with no drains, try taping the seam between the baseboard and the floor, and the seams of the doors. Leave the lights on and the next morning, take the tape off to narrow down where the drain flies are coming from.
Over several nights, you should be able to narrow them to a certain area. From here, you can proceed to get rid of the flies.
How to get rid of drain flies
If you have located the source of the drain flies, it's now time to begin the potentially long process of getting rid of them permanently.
Drain flies will continue to enter your plumbing through cracks
The first thing you must do to eliminate drain flies is find out whether you have a crack or hole in your plumbing. Generally, drain flies enter your plumbing through holes and cracks.
Since you have already located the source fixture, you can start examining for cracks or breaks in the drain. If your pipes are behind walls, this is the time to hire a plumber to clean out the drain and clean the line between where you saw the flies and the sewer. The plumber can also send a camera down the line to see if there are any cracks or damage.
If you do have cracks or damage in the line, you must fix these before doing any treatment. Until you do, the flies will keep coming back. I learned this the hard way!
Once you're confident that you don't have any cracks in your plumbing, the next step is to move on to the treatment phase.
Best pesticide to kill drain flies
What is the best pesticide to kill drain flies? Well, it's not a pesticide at all. In fact, the best way to kill off your remaining drain flies isn't even poisonous.
What you need to kill off your drain flies is an enzyme treatment which will eat away at the biological materials in the drain pipe, as well as submerge the drain fly larva so they can't hatch. There are two main options for this: Bio Drain and Green Gobbler.
Bio Drain vs. Green Gobbler: which is the best drain fly treatment?
I've used both Bio Drain and Green Gobbler extensively. Both can be useful at getting rid of drain flies. However, neither one is perfect.
I generally find Bio Drain to be the better product,. It flows down the drain well and is thick enough to keep the larva from hatching. However, there is a problem with it. I have had it stain some of my fixtures with an orange stain. The worst was to a white acrylic bathtub, which to this day shows traces of the stain.
Unfortunately, I haven't found any way to remove the stain that Bio Drain can create, aside from sanding down the area and trying to repolish it.
Green Gobbler does not stain, in my experience. It flows down and hasn't made any lasting marks. However, it's not quite as effective as the Bio Drain. As much as I have researched these products, I have yet to find out what the difference is between them that would cause one to work better than the other (since they're essentially the same thing).
So if you're trying to choose between Green Gobbler and Bio Drain, you must first decide whether you can tolerate a stain on your sink or tub. If you are okay with the possibility of a stain, you should go ahead and try the Bio Drain.
Bio Drain is also a good choice if you have a stainless steel sink that you're trying to treat, as I have not had any problems with stains on stainless steel. Nevertheless, you should always try a tiny amount in an inconspicuous corner on the first day, just to make sure it doesn't stain.
If you're like me and can't tolerate the idea of a stain, I would stick with the Green Gobbler. You'll need to buy and use more of it, and you may have to treat your drain for a longer time, but it will not damage your fixtures. If you do buy the Green Gobbler, make sure you get the right one. There are multiple Green Gobbler products, so follow the link to get to the right one.
Whether you choose Green Gobbler or Bio Drain, you should apply the enzyme treatment every other days for at least two weeks.
To do this, at night, after everyone has completed using the bathroom (or kitchen) where you're seeing drain flies, pour the Green Gobbler or Bio Drain down the drain, according to the instructions on the bottle.
Let the enzyme treatment go down the drain (this may take some time) and then cover with a duct tape drain cover, which I explained how to make earlier. Leave the lights on in the bathroom or kitchen all night, so that the drain flies are coaxed to the surface.
Every time you apply the treatment, monitor the number of drain flies you're seeing stuck to the tape. You should immediately see the number go down. If you don't, you will have to move on to the next phase.
How to kill drain fly larvae
There's no good way to kill drain fly larvae, but you can spray the drain flies with a chemical that will keep them from reproducing. That way, they won't be able to continue the life cycle, and they should die out within a few weeks.
The product you need to use is called Gentrol. You can find it here. Gentrol contains a compound that when sprayed on the flies keeps them from reproducing. It needs to be sprayed directly on the flies, and should generally be mixed with a pesticide.
I've only had to do this once, since the enzyme treatment works in most cases. But on one occasion, I found that the drain flies had escaped the drain and were now reproducing in the moist floor drain area of a basement.
I found that a good way to apply Gentrol is by mixing it with Ortho or another pesticide that is marketed to kill flies.
Questions and answers about killing drain flies
How to get rid of fruit flies in the sink
If you're finding a lot of fruit flies in the kitchen sink, make a duct tape cover as I explained above and cover the sink drain. Return the next day and check the tape. If the tape has more than a few flies, you probably don't have fruit flies — you have drain flies.
The best way to get drain flies from a sink drain and garbage disposal is to clean the garbage disposal well. This means not just cleaning it from the top, but also disconnecting it and cleaning it from the outlet pipe connection (make sure to disconnect the power first).
Once you have done this, you can proceed to the other steps in this section, including using an enzyme drain cleaner to clean the drain.
How to get rid of fruit flies in the drain
If you're finding a lot of fruit flies in the bathroom drain, you don't have fruit flies. You have drain flies. To identify the location they're coming from, make a duct tape cover (see above) and cover all of the drains in the bathroom. Return the next day and check the tape.
You can then see which drain has the drain flies coming from it. Using this information, you can clean the drain (or get a professional to do so for you), and then follow the enzyme treatment steps in this section.
Should you use boiling water to kill drain flies or gnats?
You should not use boiling water to kill drain flies or gnats. Drain fly larva can survive very extreme conditions, so boiling water isn't that effective. But more importantly, boiling water can damage your pipes. If you have PVC drain pipes, they are susceptible to hot water, and in certain (albeit rare) circumstances, they may melt. You're much better off using an enzyme treatment rigorously over a few weeks.