TheRTAStore Cabinets Review: What to know before buying [2023]
This post includes affiliate links to Amazon and other vendors. I may earn commission from purchases made through these links. However, the views and opinions here are my own.
In this article, we will review cabinets from TheRTAStore.com. TheRTAStore (The RTA Store) is one of the most well known RTA cabinet suppliers online, and it has many cabinet style options and has a good selection of cabinet layouts.
Table of Contents
About TheRTAStore (The RTA Store)
TheRTAStore.com was founded in 2009 as an alternative to other cabinet options. The company is located in New York, where they perform assembly (on pre-assembled cabinets) as well as other services.
TheRTAStore (The RTA Store) sells ready-to-assemble cabinets that arrive flat-packed in a box. The cabinets come with all of the assembly hardware and wooden parts pre-finished, but you are expected to have certain tools, and a bit of experience assembling flat-packed items.
The RTA Store was founded by a family who previously sold furniture in New York. They started adding kitchens in 2008, and then went on to open The RTA Store. Since then, The RTA Store has built up an impressive set of accolades and is often seen on TV shows on the DIY network as well as other networks.
The company has an A+ from the Better Business Bureau.
The RTA Store review: selection, variety, and pricing
The RTA Store has a wide variety of cabinet options, with all frames made of plywood, and doors made of either HDF or solid wood.
There are in total about 40 different cabinet options, which is enough to ensure that everyone can find something that suites their tastes well. I found that The RTA Store had one of the best varieties of RTA cabinets available.
The RTA Store makes choosing cabinets and parts easy. They have many different actual cabinet options, including glass and non-glass doors, small upper cabinets, full height utility style cabinets, and more. They also have many different types of molding and additional trim which you can combine with the cabinets in order to make an absolutely stunning kitchen.
Pricing for The RTA Store cabinets is generally excellent, and the company even offers a post-purchase price match.
How difficult is it to assemble The RTA Store cabinets?
For most people, it does not take a long time to assemble The RTA Store cabinets. I assembled many while building my kitchen and the chart below shows how long each one takes.
Do you need any special experience or expertise to assemble The RTA Store cabinets?
I have put together basic flat packed furniture before, but I am no expert carpenter. Nevertheless, I was able to assemble The RTA Store cabinets that I purchased without any issues.
What tools do you need to assemble The RTA Store cabinets?
You do not need a huge toolbox to put these cabinets together, but you need a few key tools:
You should use a cordless screwdriver with several different sizes of bits for building RTA cabinets, such as those from The RTA Store, since using a single size bit will quickly strip the screws. I have found that this Black and Decker set is the best for this purpose.
If you're a bit DIYer, you probably have a whole garage full of drivers and drills, but be careful which ones you use. I have cracked cabinets when I tried to use heavy duty impact drivers on them. Using a drill/driver works better, but make sure it isn't set to go too fast. I have found that the Black and Decker option is perfect for this work, as the power is limited and the speed range is perfect.
When assembling RTA cabinets, you need to glue each joint. This helps the cabinets maintain their rigidity and ensures that they don't come apart with vibrations or wear.
My favorite wood glue is Gorilla Wood Glue, which comes in a nice, large tube and has a tip that can be cut to a fine tip. You need a fine tip to avoid dispensing too much glue and making a mess on your new cabinet.
This is especially true for The RTA Store cabinets, since they don't have as many dovetail joints as some other brands. The upshot of this is that assembly is easier, but gluing is more important.
You will need a rubber mallet to tap parts into place when assembling RTA cabinets, especially the drawers. A
allows you to tap parts without damaging them, like a regular hammer would.
You should also have some scrap wood around to act as a buffer between the rubber mallet and the cabinet parts — which provides additional protection for the cabinet.
How much time does it take to assemble TheRTAStore cabinets?
| | |
| --- | --- |
| Standard (upper) wall cabinet | 30 minutes |
| Standard base cabinet without drawers | 45 minutes |
| Base cabinet with drawers | 1 hour |
| Full height utility cabinet | 1 – 1.5 hours |
| Individual drawer assembly | 20 minutes each |
| Small upper cabinets | 30 minutes |
How long does it take to assemble TheRTAStore cabinets?
TheRTAStore cabinet assembly tips and tricks
Here are some tips that I have found to be useful when assembling The RTA Store's cabinets. There is more information here.
Make sure to glue all joints with wood glue, but don't use too much, since it will ooze out of the joints. Glue is especially important for The RTA Store cabinets, which don't have as many dovetail joints.
Check all cabinets as soon as you get them for damaged parts. Damaged parts are rare — but you don't want to have to wait for parts during assembly.
It is easier to put together the full height cabinets with a helper. You need a lot of space to slide the tongue and groove parts. If you assemble them right-side-up, you a high ceiling. If you assemble them horizontally, you need a large open area.
The RTA Store review: cabinet quality
The quality of The RTA Store's cabinets is very good. I found that the quality is much higher than much more expensive non-RTA brands. In fact, I have gotten multiple comments about how great the quality was.
In this section, we look at the quality in-depth: materials, craftsmanship, durability, and feel.
The RTA Store quality: materials
I have found that The RTA Store uses very high-quality materials in their products. Cabinet boxes and frame are made from grade A plywood with a wood veneer. Here is a cross-section photo of a cabinet frame panel, cut in half, so you can see the inner construction: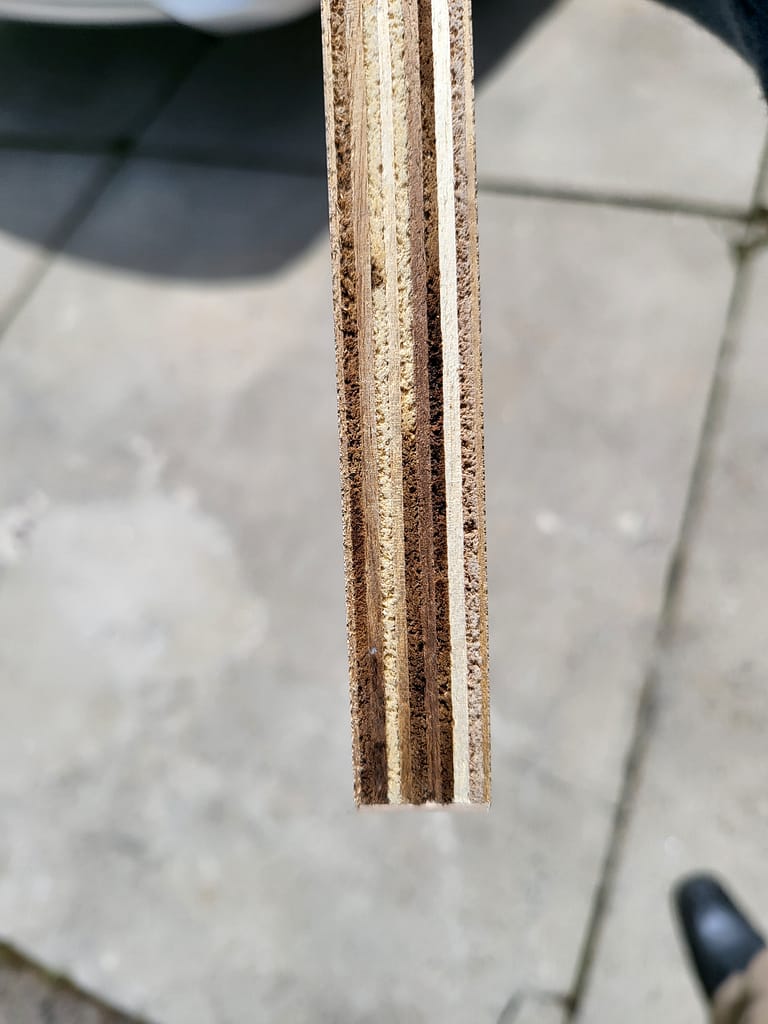 Cabinet faces are either made of solid wood (like birch) or engineered high-density fiberboard (HDF). Engineered high-density fiberboard is a type of wood product made from wood fibers that is much denser than MDF (which you would find in IKEA products).
HDF tends to be stronger and more durable than solid wood in wet and extreme temperature conditions. It is often used in high quality furniture, cabinetry, and flooring. It also has no visible grain, so it's sometimes preferred for painted cabinets.
In the following picture, I have used a miter saw to cut a cross section of a The RTA Store cabinet door made from HDF:
Here is a cross section of a TheRTAStore door made of solid birch on the outside and HDF in the center:
These are common materials used for cabinets from multiple online RTA cabinet sellers. In fact, if your look at the materials used in Lily Ann Cabinets, you will see the materials are the same. You can compare that to an IKEA product made of MDF to see how much the quality differs.
TheRTAStore quality: millwork
The millwork quality for The RTA Store products is top notch. In all of the cabinets I bought from them, I had no bad experiences with fit.
Their drawers fit together perfectly, without any issues. And unlike some other cabinet sellers, The RTA Store minimizes using dovetails on cabinet frames. This means that the parts slide together easily and are held together using provided L-brackets.
We much prefer this design over dovetailed frame joints because the dovetails sometimes don't fit properly and make assembly much more difficult. You can see The RTA Store's joints in this picture:
For comparison, here is a Lily Ann Cabinets front face. You can see the dovetails in the picutre:
In an ideal world, the dovetail here would be preferable. However, sometimes the parts are milled imperfectly, and sometimes due to temperature or humidity, the tongue piece swells, making it impossible to fit. And trying to force fit the pieces generally results in a cracked cabinet.
In practice, I definitely preferred the simple slot and bracket design used by The RTA Store, since it saves time and is just easier to handle.
The RTA Store cabinets quality: hardware
RTA cabinets in general do not come with that much hardware. Generally, you will just get the hinges, frame support pieces, and screws. Drawers will also come with drawer glides.
I found The RTA Store's hardware to be excellent, including the hinges and drawer glides, which are both soft closing (although that's generally expected these days), and full extension. The soft close mechanism for the drawer glides is of heavy, reliable and solid. Most of the drawers glides I assembled didn't require any sort of adjustment.
I liked that The RTA Store provided many metal brackets for assembly, as well as metal shelf pegs. Other RTA cabinet sellers provide plastic pegs.
You will find that online RTA cabinet sellers tend to have very similar (if not the same) parts. For instance, here is a cabinet hinge from Lily Ann Cabinets, left, and The RTA Store, right. Aside from a small plastic piece, the two are exactly the same.
The RTA Store customer service
I found the customer service from The RTA Store to be top notch. All emails to them were responded to within a few hours, and they were very helpful.
The RTA Store is good about handling claims. I received one incorrect item, and the company's response was very quick; the handling of the response was excellent.
Another thing I found impressive about The RTA Store was that their items were shipped quickly and arrived sooner than expected. This was not my experience with some other RTA cabinet sellers, which sometimes took months to ship and provided no communication in the meantime.
Comparing The RTA Store to other RTA cabinets
One thing I noticed when looking at the main online RTA cabinet sellers was how similar the actual cabinets are.
If you look at the pictures above, you will see that when you cut the cabinets up and look at the materials and construction, they don't differ much. Additionally, the hardware for the cabinets is very similar, although not exactly the same.
So how does The RTA Store compare in quality to other RTA cabinets?
However, there are a few reasons that TheRTAStore is my favorite RTA cabinets seller:
TheRTAStore was by far the fastest on average to get cabinets to me — there were no delays in shipping or fulfillment
I found the TheRTAStore to have the best customer service, which is especially important since you will almost certainly need replacements for parts broken in shipping
TheRTAStore has a great selection of cabinets, so you're sure to find the ones you like
The RTA Store Pros
Best customer service
Top quality
Quick order fulfillment
Great selection
Excellent pricing, plus price matching
The RTA Store Cons
They have glass door cabinets, but you have to get the glass separately
In all, I definitely would recommend as my top choice The RTA Store for cabinets. Do you have experience with them? Post in the comments below.
Common questions about The RTA Store cabinets
Where are The RTA Store cabinets made?
The RTA Store says their products are globally sourced. We found that the cabinets we ordered were marked as made in Vietnam. This is consistent with most RTA cabinet suppliers, which tend to offer products made in Vietnam, Thailand, or China.
The RTA Store does some finishing work on their cabinets in their New York offices, including assembly for pre-assembled cabinets.
The verdict: should you buy The RTA Store cabinets?
Of all the options, The RTA Store would be my #1 choice for cabinets going forward. The styles, materials, and quality are the same as other online RTA cabinet sellers, but the customer service — which is important since these cabinets sometimes arrive broken — is the best I have dealt with.