Best RTA cabinets of 2023
Looking for the best RTA cabinets available?
Over the years, I have tested cabinets made by most well known companies, from the cheap MDF stuff at IKEA, to the high end stuff like Starmark, and everything in between. I've become very familiar with cabinet build quality and design.
But in the last year, I have increasingly become fascinated with RTA cabinets. These cabinets can feel as good as the top end cabinets, even though they're priced closer to the IKEA offerings. Because of this, I have started using only RTA cabinets in my kitchen remodels.
Over the last 18 months, I have built well over 100 RTA cabinets, in many different kitchens. I've tried many — if not all — of the RTA cabinet makers and suppliers. And since I wasn't able to find much quality information on the different suppliers before buying, I decided to create this site.
In this article, I list what I think are the best RTA cabinets available in 2022.
Table of Contents
Methodology
I have written detailed reviews of many of the RTA cabinet brands I tested. In those reviews, I looked at several different aspects of the RTA cabinet brands. In this article, I compare the brands based on the following:
Selection – the selection of RTA cabinets available, as well as the selection of individual frame designs and trim
Hardware quality – the quality of the parts used in the RTA cabinets (including hinges, brackets, drawer glides, and more)
Wood quality – the quality of the wood used in the RTA cabinets
Construction, design, and assembly – how easy it is to assemble the RTA cabinets, as well as how good their design is
Fulfillment and customer service – how good the customer service is
After looking at each specific dimension, I choose what I believe to be the best RTA cabinets.
Best RTA cabinets: Selection
Here we take a look at the different cabinet styles available from the RTA cabinet supplier. Some suppliers offer several styles that are made by different factories, while other suppliers stick to one line of RTA cabinets from a single factory.
My favorite suppliers offer several different types of styles (beyond the popular white shakers), including intricately milled traditional cabinets as well as more modern styles.
It's also important to have a many cabinet and trim options within a style. This is because you need to have a wide selection of frame sizes, so that you can fit your space optimally.
Additionally, the number of trim types available can make or break a kitchen. For instance, adding certain light rail and dentil moldings can turn a boring, cheap looking kitchen into something that looks expensive and custom. And specialized valences and corbels take that kitchen to another level.
There are several RTA cabinet sellers that have a wide selection of cabinet options. For pure selection of door styles, I have found that Kitchen Cabinet Kings seems to be the top.
However, they offer several styles that I personally wouldn't choose, so I prefer other companies like The RTA Store and RTA Cabinet Supply, which both have a large selection but the selection is a bit pared down and limited to the highest quality styles.
Best RTA cabinets: Wood quality
The quality of wood used for building an RTA cabinet is vital. Some of the cheap cabinet makers, like IKEA, use MDF in building their cabinets. This is a very cheap material that results in flimsy and poorly weighted cabinets.
Except for IKEA, all of the major RTA cabinet suppliers online use real plywood for their frames, and solid wood or HDF in their doors. Since everyone uses the same high-end wood products, there isn't too much to compare here.
You will be happy with the quality of wood in the RTA cabinets from most of the RTA cabinet suppliers, including Lily Ann Cabinets, The RTA Store, RTA Cabinet Supply, and many more.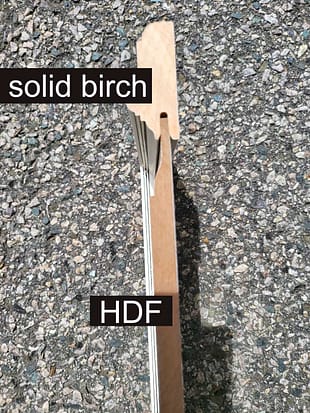 Best RTA cabinets: Hardware quality
Hardware means the parts and fasteners used in cabinet assembly, including door hinges, brackets, and drawer glides.
Hardware quality is one area where the RTA cabinet brands differ. Some brands use all metal hardware, including metal shelf clips and other metal parts. Others try to use more plastic parts.
Also, the door hinges and drawer latches, while similar among RTA cabinet suppliers, do have differences that make certain brands better than others.
I found that The RTA Store and RTA Cabinet Supply have exceptionally good hardware.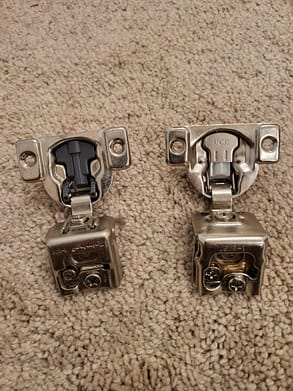 Best RTA cabinets: Construction, design and assembly
Since you have to assemble RTA cabinets yourself, the ease of assembly is of paramount importance. So for the all of the RTA cabinet brands I have built, I have compared how long it took me to assemble their cabinets, and whether I had any trouble in assembly.
I have weighted this parameter heavily in my choice of best RTA cabinets, and I have only chosen RTA cabinet brands that were easy to assemble.
The construction and design of the RTA cabinets is also important in determining their quality. This goes beyond wood and hardware quality: certain brands sell RTA cabinets with better designs that are more durable and easier to build than others.
In choosing the best RTA cabinets, I have taken design and construction into account. When I reviewed all of them, I really liked the cabinets from The RTA Store.
Best RTA cabinets: Fulfillment and customer service
Buying cabinets online is not like buying books. RTA cabinets generally have to be shipped via freight carriers, which means there is a lot of opportunity for the cabinets to get damaged. Moreover, RTA cabinets are shipped with a lot of parts, which can go missing during shipping and assembly.
This means you'll likely be corresponding with the RTA cabinet provider's customer service department a fair amount.
Therefore, you will want to choose an RTA cabinet provider that has excellent customer service. The provider should be responsive to requests for replacements and be easy to contact if you need assistance.
The provider should also fulfill orders quickly and keep the customer informed throughout the process. While all major RTA cabinet sellers offer reasonably good customer service, certain ones are better than others.
There are many RTA cabinet brands that have good customer service. However, I felt that the best service I received was definitely from The RTA Store. They contacted several times throughout the ordering process, and the contacts seemed personal and were helpful. I also found their response to missing/damaged items was excellent.
Best RTA cabinets: overall
Overall, in my opinion, the best RTA cabinets this year were from The RTA Store. Their customer service was excellent, and their hardware quality was high. The wood quality at The RTA Store matched the quality of wood at other sellers, and the selection of styles available is very good.
In general, if you purchase RTA cabinets from any of the sellers in this article, you are likely to be satisfied, but I felt that The RTA Store was slightly better than the others.