WholesaleCabinets.US Review: what to know before buying [2023]
This post includes affiliate links to Amazon and other vendors. I may earn commission from purchases made through these links. However, the views and opinions here are my own.
In this article, I review another popular RTA cabinet brand, WholesaleCabinets.US. This brand has a large number of styles and some great quality, so I would totally recommend them.
Table of Contents
About WholesaleCabinets.US
WholesaleCabinets.US or Wholesale Cabinets is a U.S. based supplier of RTA cabinets, as well as other cabinets. Of all of the RTA cabinet suppliers that I have tried, WholesaleCabinets.US has one of the bigger selections.
The company is based in Florida, and they say they have warehouses around the country, although it's not clear if these are their own warehouses or drop-shipping locations.
Here is what the owner has to say about the business:
Wholesale Cabinets was founded on the belief that honesty and integrity still mean something. In today's world, where mediocrity has become the acceptable norm, Wholesale Cabinets stands head and shoulders above the rest by not playing by those rules. We still believe that exceptional quality, honesty and superior performance are the way to the top. We work hard to ensure that every order is accurate and that every customer is satisfied.

WholesaleCabinets.us
WholesaleCabinets.US selection, variety, and pricing
Wholesale Cabinets has around 50 different styles of RTA cabinets. They have one of the larger selections of the RTA cabinet sellers I have purchased from, although they are not the largest.
They do seem to have a combination of styles, whereas some other sellers sell only one variant of a type.
The pricing is in line with other sellers, although Wholesale Cabinets does have sales, which can bring a significant savings over the standard pricing. They also price match other sellers, but this is pretty common among RTA cabinet suppliers.
How difficult is it to assemble WholesaleCabinets.US cabinets?
While all RTA cabinets are relatively easy to assemble, I found Wholesale Cabinets products to be especially so. Their cabinets seem to have newer designs, meaning they don't suffer from some of the problems that cabinets from other RTA cabinet suppliers can have.
Do you need any special experience or expertise to assemble cabinets from WholesaleCabinets.US?
As I have said in reviewing other RTA cabinet suppliers, there's no special experience or expertise necessary to build an RTA cabinet. If you have some basic tools, and you can put together an IKEA dresser, you should have no trouble with building most RTA cabinets.
The cabinets that I have purchased from WholesaleCabinets.us were slightly easier than other RTA cabinets to install, due to small design differences (that can make a significant impact).
What tools do you need to assemble cabinets from WholesaleCabinets.US?
You don't need too many tools to assemble RTA cabinets, and Wholesale Cabinets is no exception. Their cabinets only require a few common tools:
The most important tool you need for assembling RTA cabinets (especially if you're doing a whole kitchen) is a good cordless screwdriver.
Make sure you have one that's not too powerful or too fast. I have found a basic 20V driver from Black and Decker does the trick very well. More powerful, professional drivers — especially impact drivers — can damage the cabinets by applying too much force.
There are several different sized screws that come with these cabinets, so to avoid stripping screws (and having to deal with the hassle of drilling them out), make sure you have several different sizes of flat and Phillips bits. Always use the best fitting bit for each screw.
Another absolutely vital item you need when assembling RTA cabinets is wood glue. You can get this glue from any hardware or home supply store.
Wood glue should be placed in every joint in your cabinets, before you screw them together. This ensures that the cabinet stays together and doesn't come apart due to repeated use.
I recommend Gorilla Wood Glue, for its excellent hold, but any standard wood glue should do the trick.
A rubber mallet is in important tool for coercing parts into place. This is especially true with drawers, which have dovetail joints that are designed to be very tight.
The cabinets that I have bought from WholesaleCabinets.us don't require too much coercion — they fit together extremely well. However, you will occasionally find a part that just doesn't want to go in easily.
If you use a regular hammer to fit these parts, you will damage the wood. So a rubber mallet provides the perfect combination of power and softness.
How much time does it take to assemble cabinets from WholesaleCabinets.US?
When I assembled these cabinets, I timed myself on different types of cabinets. Here are the amounts of time I spent on each one:
| | |
| --- | --- |
| Standard (upper) wall cabinet | 30 minutes |
| Standard base cabinet without drawers | 45 minutes |
| Base cabinet with drawers | 1 hour |
| Full height utility cabinet | 1 – 2 hours |
| Individual drawer assembly | 20 minutes each |
| Small upper cabinets | 15-30 minutes |
How long does it take to assemble RTA cabinets from WholesaleCabinets.US?
WholesaleCabinets.US cabinet assembly tips
Here are some tips that I have found to be useful when assembling WholesaleCabinets.us RTA cabinets. There is more information here.
Make sure to glue all joints with wood glue, but don't use too much, since it will ooze out of the joints.
Check all cabinets as soon as you get them for damaged parts. Damaged parts are rare — but you don't want to have to wait for parts during assembly.
The full height utility cabinets are easier to put together with a helper, and since you need to slide the tongue and groove parts from the top, you need a lot of space. If you assemble them right-side-up, you will need a lot of clearance.
WholesaleCabinets.US Cabinets quality
RTA cabinet sellers don't vary that much in quality. However, there are some small differences that can make a big impact when you are actually assembling and using the cabinets.
In this section, I review the quality of cabinets that I have purchased from Wholesale Cabinets, and compare it to other sellers.
WholesaleCabinets.US quality: materials
The quality of materials used in cabinets sold by Wholesale Cabinets is generally excellent. All cabinet boxes are made from high grade plywood, and doors are generally made of solid wood or HDF.
Here is a door from WholesaleCabinets: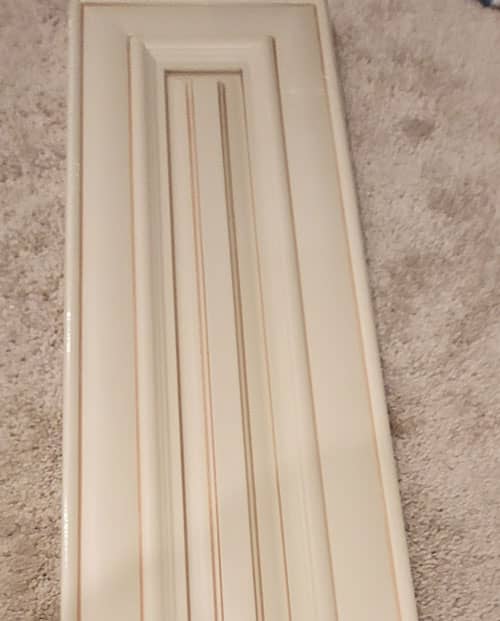 Like I do with all of the brands I purchase, I cut one cabinet up to make sure the material on the inside matched the company's marketing.
In the photo below, you can see the solid maple construction used in the cabinet face frame WholesaleCabinet.US uses:
I was surprised to see that Wholesale Cabinets sells some doors that are listed as MDF. However, when I cut open a door I noticed that did not look like MDF — it looked like HDF. This appears to be a typo on the website.
Here's a cross-section example of a door after I cut it in half:
WholesaleCabinets.US quality: millwork
I was impressed by the millwork of cabinets I purchased from WholesaleCabinets.US. The cuts were clean and everything fit together smoothly.
Like some other brands, WholesaleCabinets has doesn't use complicated dovetail joints for its cabinet boxes. Instead, it uses metal brackets and screws. This makes assembly easier, and avoids the problems I had with other cabinets, which didn't fit together due to wood expansion or swelling.
You can see the simple channel joints here:
Wholesale Cabinets also reinforces a lot of parts of their cabinet frames, which I didn't see with too many other brands. You can see in the picture below that the back of the cabinet has reinforcements all around, which make it much stronger.
Other cabinet brands tend to reinforce only the top and bottom, so that you don't quite get the same level of strength when applying force to the cabinet vertically.
WholesaleCabinets.US quality: hardware
Although hardware doesn't differ much between RTA cabinet brands, I was happy to see that Wholesale Cabinets includes plenty of metal brackets in its parts box. These metal brackets reinforce joints in the cabinet. They're a bit more expensive to produce than dovetail joints, but they make assembly much easier — and they make the resulting joints strong.
Most of these parts are the same (or similar) to other brands. You can see hinges from TheRTAStore and Lily Ann Cabinets below:
One other good thing about cabinets from WholesaleCabinets.us is that they use metal shelf pins. Other companies use plastic pins to hold in shelves, which are cheaper. But the plastic pins break easily and can't quite take the wear that metal ones can.
WholesaleCabinets.US shipping and service
I received my order from Wholesale Cabinets very quickly and in good condition. They double packed the cabinets (in two layers of boxes, with packing in between), which was a good way to ensure the cabinets arrived safely.
I did not find any damage to any of the cabinets I purchased from Wholesale Cabinets, so I did little interfacing with their customer service. However, the company is accredited by the BBB and has generally very good reviews from customers.
Comparing WholesaleCabinets.US to other RTA cabinet brands
In general, I was very pleased with my purchases from WholesaleCabinets.US. Here are the pros and cons in comparison to other brands..
WholesaleCabinets.US Pros
Excellent quality materials and all metal hardware
Cabinets had extra reinforcement
Good packing and shipping speed
Lots of selection, including glazed options
Sells some cabinet parts not available elsewhere
WholesaleCabinets.US Cons
Glass not included in glass-ready cabinets
The verdict: should you buy from WholesaleCabinets.US?
After building using the cabinets from WholesaleCabinets.US, I would definitely recommend them. These and TheRTAStore are my two top cabinet brands.